CKN Recycling Project
On 24th October we had a talk with ARO at Kleine Constantia. Feedback received from some who attended was that it was informative and gave them a whole new perspective and respect for these people. Luyanda shared a wealth of information about recyclers/reclaimers, their long history and current stance today, as well as interesting facts, statistics and experiences.

I highly recommend all South Africans take the opportunity to attend one of these talks. ARO is currently very busy piloting projects around Johannesburg and are assisting us with our initiative already underway.

Please continue to separate your recyclable materials from general bin waste. You can put all your various recycle materials in a separate bag for the Recyclers so they no longer have to dig through unhygienic waste to get to items of value. Please rinse dirty food and beverage containers before. In terms of bags you can simply use a bin bag (standard black bin bag or another colour bin bag) and place it next to your dustbin. Alternatively, you can start using a reusable bag (such as the large white garden bags on sale at Builders Warehouse for R10) that you or domestic helper hands to your recycler. He will give it back to you (wait for the bag and communicate what you want the first few times). Currently our Recyclers are collecting on Wednesday bin day mornings from early.

As a first step get familiar with your street Recyclers. A cool drink of water or refreshment and snack will be well received. It is gruelling labour and especially tough on hot summer days.
Kind of materials that Recyclers typically look for and collect; paper (newspapers, magazines, books, office paper, envelopes), cardboard, cans (beverages, food tins, aerosol, aluminium, steel), juice and milk plastic cartons, various plastics, polystyrene (plastic trays/tubs but not dirty clamshell food packaging) They do not take glass so please dispose of glass responsibly at one of the many depots in the area – one of the closest is behind Hillfox.

If you want to meet your Recycler but are not feeling confident to reach out I will be more than happy to assist with meet and greet. Please contact me directly (0825234095). Dowry security patrollers will also assist with introducing you to your Recycler as they work with them.

Currently we have one volunteer making sandwiches for the Recyclers on Wednesdays. Can we have more please? Bottled water, snacks, anything is always so very appreciated. This morning I took my usual drive around, greeting Recyclers and handing out Sandwiches and apples kindly donated and I promise you they really appreciate any small act of kindness.

We have various Whatsapp groups in CKN so let's use them. I and others would really like your feedback and want to know how it's going with you and your Recycler, what you have experienced, what you have learned, etc. Please use the Community and CKN Enviro Care Whatsapp groups for this. Feel free to contact me directly.

Visit CKN Facebook page for info on Recyclers and the ARO pilot projects in other areas. Follow ARO on Facebook

Lorin Leuci – Enviro care committee member ♻
What the symbols on packaging materials mean.
21st January 2020
♻ Curbside Collections operates in Weltevreden Park on Fridays. They collect recyclable materials as mentioned in the below flyer. They will be collecting in CKN from this Friday until further notice. The recycle materials not taken by our community Recyclers on Wednesdays will therefore be collected by them should you wish to make use of this. And I hope everyone does!
✅To be added to the collection route send me your street name by Thursday 23/01/2020. Place your remaining recycle items on the curb outside your house on Friday mornings by 8AM to be collected.
♻Wednesdays – Remember to place your plastics, tins and other items the Recyclers usually collect in a separate refuse bag and place next to your bin on bin day to avoid unnecessary bin rummaging. I use semi transparent plastics bags purchased from West pack.
Thank you
Lorin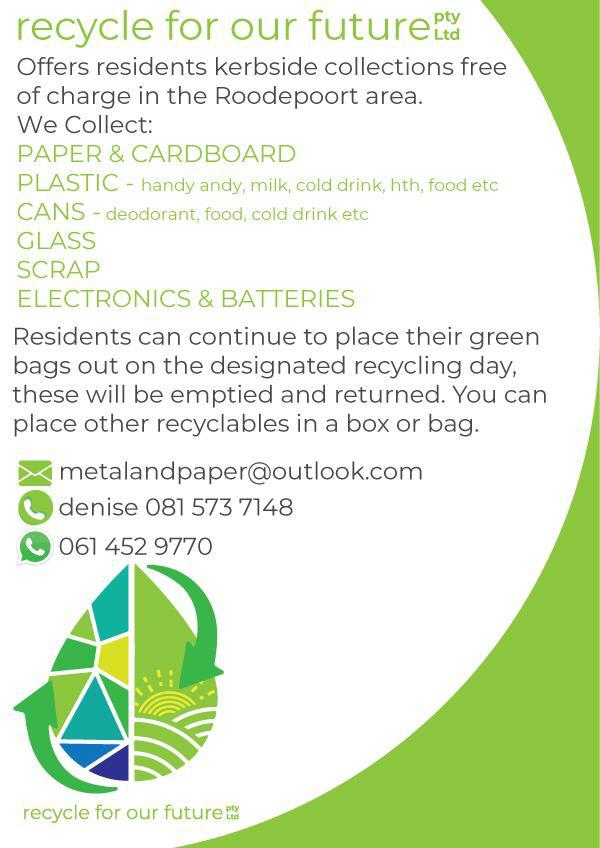 Cleanup on Hendrik Potgieter 9th November 2019
Message from a South African to all South Africans – November 2019
So many people gripe about the Waste Reclaimers that roam our suburbs. Reclaimers are often harassed, stigmatised, treated like human waste and dispossessed of their livelihood by JMPD and SAPS etc. However, it is the reclaimers who unofficially started the recycling economy in South Africa by separating valuable materials from waste. We all have a place here.  If like me you are saying "I'm Staying" then let's be mindful of how we can play our role in recycling and assist these guys for the greater good of our suburbs. These guys work exceptionally hard and often we tend to get frustrated with them. Respect the fact that digging through waste is a disgusting job for anybody – imagine yourself having to do this job! Today I ask you to reconsider your stance on these overlooked members of our society- be informed and assist where you can. I would like to share some insights.Who are the waste reclaimers?
Independent people who are currently without jobs who are making an honest living so that they can feed. clothe and school their families They often travel many kilometres a day collecting waste, expending enormous energy in the process – often their carts weigh 200kg or more. It takes 23 x 2 litre PET bottles to make up 1 kg which can be sold for around R3kg.  Do not delude yourselves that these people have an easy time earning money! African Reclaimers Organisation (ARO) is an organisation which is collaborating with Government and reclaimers in order to get the already functioning informal waste reclaiming sector recognised by government. Waste reclaimers currently get no financial support from government.What value do they add?
Informal waste reclaimers extract discarded recyclable items that would normally land up in landfills and the environment and sell these to buy-back centres for recycling. Waste reclaimers are doing a valuable job which requires intellect. commitment and a great deal of hard work Their work is saving our municipalities millions of Rands in waste management and disposal every year. Due to their efforts in the recycling industry South Africa is now on par in the recycling arena with European countries.What do they collect?
The reclaimers only collect what has economic value at the buy-back centre. PET bottles (e.g. Coke bottles) plastic milk containers, Creepy Crawly pipes, plastic plant pots, large yoghurt containers. Aluminium, cold drink tins, paper.What do they NOT collect?
The reclaimers do not take anything that the buy-back centres will not pay for including
Bottle tops (these are recyclable, but the buy-back centres will not pay any money for them).
Translucent fruit containers (e.g. strawberry packaging – these are recyclable PET but the buy-back centres will not pay out for them).
 Polystyrene.
Green and brown PET bottles (e g Appletiser and ginger beer bottles)
Chocolate, sweet and chip packets.
How can residents assist them?
Separate waste at source and place only what has value to the reclaimers in boxes or clear packets on the pavements on collection day. The easier we make it for these reclaimers the less time they will have to spend in our suburbs!
Respect the fact that digging through waste is a disgusting job for anybody – imagine yourself having to do this job!
Rinse out ALL dirty containers so that they are clean for collection.
Remove bottle tops as these are not taken and are often discarded around suburbs.
Get to know the person who frequents your street – build a relationship with that person and find out what they will and won't take.
Show kindness to your local reclaimers – offer bottles of water on hot days or a cup of tea on freezing winter mornings. A little kindness goes a long way.
Be mindful of the reclaimers who risk their lives on our roads and give them a wide berth while driving.
Encourage reclaimers to join ARO and become 'registered' reclaimers in your suburb.
Supply reflective vests and reflectors to your resident reclaimers.
Work with ARO as a community so that residents learn how best to work with the reclaimers for the benefit of all.
Please join our groups and chats to keep informed.
Facebook
https://www.facebook.com/groups/842635009121672/
WhatsApp Enviro Care
https://chat.whatsapp.com/pOWkdHsvfy3Wb6WSVkSIr
WhatsApp Animal Care Group
https://chat.whatsapp.com/3nvtpBjfipy77sPAM0JiiW