Please support our local businesses. Click here.
23 YEARS OF CKN
HOW CKN WAS FORMED
CKN COMMITTEE
DOWRY SECURITY
ADS
Replacement of stolen or damaged dustbins
PIKITUP URGES RESIDENTS WITH DAMAGED OR STOLEN BINS
TO APPLY FOR REPLACEMENTS
12 March 2019
If your bin has been damaged or stolen, you can now apply for a replacement bin.
Pikitup, the waste management company of the City of Johannesburg, has stockpiled a significant number of bins, but you must follow the process outlined below to have your bin replaced:
1. What to do if your bin has been stolen
Report your bin as stolen at a police station nearest to your place of residence, obtain a case number and have your municipal account ready before calling the City's Call Centre to make an application for bin replacement. This process applies to both domestic and business customers.
2. What to do if your bin is damaged
Report the damaged bin through the City's Call Centre number and also be in possession of your account number when applying for your bin to be replaced
3. What to do when requesting for an additional bin
Call the City's Call Centre number and have your account number ready. You will be issued with a reference number which will be used to issue an additional bin. However in such instances, you will be required to pay for the cost of the additional bins.
The reference number will then be referred to a Pikitup official who will attend to your request. On delivery of the bin, you must sign the bin delivery document as proof that you have received the bin.
Take note that no bin request will be processed without a reference number.
The process to apply for a new bin is in line with Pikitup's bin management policy. In terms of the policy, Pikitup will only replace a damaged bin at no cost to the customer, but lost or stolen bins will only be replaced for free once in a bin's useful life. The current useful life span of a bin is eight (8) years.
In relation to sectional title properties, Pikitup will provide bins equal to the lower number of units in the complex or bins equal to the space available to store bins in such properties. You may only apply for a bin if you are a property owner or a managing agent of such a property.
If you are a tenant wishing to apply for a bin, you must first submit a letter of authority from the owner or the managing agent of the property for your application to be processed.
You must immediately place your bin inside your property after it has been emptied to prevent criminals from stealing it.
To have your bin replaced, call the City of Johannesburg Call Centre number: 011 375 5555 or 086 0562874 and press option 4 for Pikitup.
For a small fee, once you have a reference number,
one of our residents will collect your damaged bin from your house and get your replacement bin .
He is also willing to add your house number if you so wish.
Contact Hendrik 0724327229
LETTERS FROM RESIDENTS
17th February 2019
Good Day John,
21 years is indeed a long time, and with your perseverance, commitment and dedication it is what it is today.
I have been in CKN 11 years now, and I feel obligated to write this mail, and I hope you publish it.
Our area is one of the safest areas in Gauteng, and you have done a lot to get this status. I remember when I was still working in JHB, (working permanently in Africa now) I used to fill your slots with vehicle patrols, as it was important for me to contribute towards safety. Sadly, many folks feel that they have paid their monthly dues and that is where it ends. One can not put a price on safety, and as you have mentioned, the monthly contributions has been kept at minimum. How you managed that I don't know, as fuel alone has sky rocketed.
The climate we live in has a detrimental effect on everyone, and everyone is a target. As you have rightly mentioned, crime has become so violent that it is beyond imaginable understanding what these people do to victims. Just this past Friday a house was attacked, robbed and all occupants were tied up. The terrorists then raped the eldest daughter in full view of the family. How does one live with that, how does one continue with live, can one ever get over such a barbaric act?
What we all can do is to get involved. Every single person should adopt a Zero Harm attitude. At work we successfully adopted a zero harm attitude towards safety, why can't we all do that at home? Safety/security after all, starts at home. Let us stop being negligent by leaving our gates open, let us stop being negligent by leaving valuables in cars parked on the side of the road, let us all stop being negligent by not patrolling the very same area we live in, let us all stop being negligent by inviting terrorists into our area by giving them opportunities to attack.
Safety/security is YOUR responsibility to yours and your families lives, then you have have a responsibility towards your neighbours safety/security. If you feel your neighbour is not doing his part, report it to John, who can visit them and make suggestions. I can not believe that in this day and age we live in, that we can still be ignorant towards safety/security and in being so ignorant, endangering not only your own and that of your families life's, but the people around you as well.
R350.00 is not too much asked, and I will even go as far as saying that you should increase it to that, without asking. I want to sleep peacefully at night, I want to arrive to a safe suburb at night, I want to wake up the next morning with my loved ones, and not have my and my families lifes shattered because of R50.00.

Best Regards.
Coenie Meyer____________________________________________________________________
17th February 2019
Dear John, 
Thank you for your email updates. We have been members for a couple of months and we can honestly state that we are impressed with the work done by CKN and Dowry. 
We as residence try maintain our own precautions and security, however with the increase in crime and the recent shooting in our own street, we feel that the work done by Dowry is imperative to keep our area safe. Therefore to maintain the present services of the dedicated staff we agree to the increase, albeit a very tight financial restraint. 
Thank you for your commitment and continued community work it is appreciated. 
Best regards
For your pets
Dear CKN,
Please take a few minutes to read  below about Identipet microchip for our companion animals. They offer a number of  services that you may not even be aware of.
I cannot stress the importance and value of micro chipping enough!
While there are a number of microchip companies in South Africa Identipet remains my personal number choice for various reasons. They are an established company with a strong database that is kept up to date and grown by a team of staff. They also do a lot of outreach programmes and sponsor SPCA's and vets with their scanners. Have a browse through their website for more info (link further below)
As a subscriber I found this to be a good communication,  worth sharing with you fellow CKN community.
P.S. If you are looking to chip your dog or cat, Radiokop Animal Clinic offers Identipet micro chipping at a very reasonable rate – R225 current rate at June 2018. Note: This excludes the Identipet subscription fee (monthly or lifetime offers) which is detailed in their website.
Your friend in furry matters,
Lorin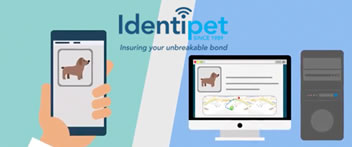 Since August 2016, we have been working hard to revise, review and revitalise every part of our offering to you. This includes new branding, packaging and systems to complement our top quality microchips and scanners for all types of animals. We hope that you will agree that we are offering more value for you and your pets than ever before
The New Identipet App is available in the App Store and Google Play Store.
Register your pet on the Identipet National Animal Database by scanning the microchip packaging and completing your information.
Keep all microchip & vaccination information on your device.
Build a gallery of the cutest photos of your pets.
Request a legal certificate of ownership for your pet, which will be delivered by email.
Send out an SOS via the app to our Pet Rescuer Network in your area (4 000 current members and growing which includes individuals, home owners associations, online communities, vets, welfare organisations) Why not sign up yourself today?
Receive an automated SMS via Rapid Alert™ to all listed mobile numbers when your lost pet is scanned at a registered scan facility (eg. Vet, welfare or residential estate)
Mark your pet as deceased when that inevitable, sad day arrives
Locate emergency vets in your area, and initiate maps and directions from the app.
Seamlessly and safely transfer ownership of a pet.
Easily edit your personal details when they change (don't worry, we will remind you to do it)
Find answers in the FAQ section of how to do all of the above.
Send bug and error messages straight to our tech team
Please watch an explainer video of how the Identipet system works.
https://www.youtube.com/watch?v=dt8MW1Xscd4&feature=youtu.be
As always, it is our mission to promote responsible pet ownership and keep your pets safe and sound!
Should you have any queries please contact us on 011 957 3455/6 or info@identipet.com
Team Identipet
News article in Cape Times –
perhaps in the interest of CKN members to take notice.
R10 000 fine for failing to renew gun licence
20 February 2017
ANA Reporter (Cape Times/www.iol.co.za)
A man who failed to renew his firearm licence in time, and was thus in illegal possession of an unlicensed firearm for some six months, was fined R10 000 or two years in prison on Monday.
Derick Johnson appeared in the Parow Regional Court before magistrate Constance Nziweni.
The magistrate agreed with prosecutor Barry van der Berg that the case did not justify a jail sentence without the option of a fine as this was more of a technical offence.
Johnson told the court the licence had expired in June last year and that he was in fact in the process of renewing it when he was arrested on December 29 last year.
He told the court: "I was still in the process of getting the licence sorted out."
The prosecutor added that he would have called for a prison sentence without a fine had Johnson in fact been in possession of the unlicenced firearm for illegal purposes.
Blending justice with mercy, the magistrate suspended half the fine for five years and allowed Johnson to pay the remaining R5 000 in two instalments – R2 000 immediately and the remaining R3 000 at the end of April.
However, to bring the gravity of the offence home to him, she warned Johnson he would be in serious trouble if he failed to pay the R5 000, or even part of it, by the end of April.
She warned him: "If you fail to pay, you will be rearrested and brought before this court again, and I will send you to prison."
She said the court did not know why he had failed to renew the licence on time – whether it was due to laziness or ignorance.
Nziweni said it was crucial for the criminal justice system that the requirements for the renewal of firearm licences be complied with to the letter.
She said justice required the courts to temper punishment with a measure of mercy, as she had done by suspending half of Johnson's fine and prison sentence, but that she would be failing in her duty if the court did not send out an appropriate message to communities.
The message was that offenders caught in illegal possession of unlicensed firearms, for criminal purposes, could expect heavy jail sentences, she added.
African News Agency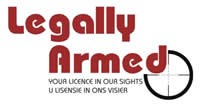 Contact Johan Potgieter,
Cell: 079 306 7203,
Email: johanp@legallyarmed.co.za
WHATSAPP
We have several WhatsApp groups which are used to disseminate urgent and important information.
If you are a member and would like to be added to one of these please contact John with your cell phone number for WhatsApp.
Read here for more information about WhatsApp.
PAPER PICK UP
The Ronnie Bag……….
I don't think that one needs to expound the virtues of recycling as a means of saving natural resources and the energy saved in the initial manufacturing process.
The recycling bug has yet to hit us here in South Africa as it has in say, Western Europe, where it has become an instinctive reaction. All household refuse is sorted into 3 or 4 types and bagged for collection by the local authority etc.
The Ronnie bag is a starting point for this habit to gain momentum in our society. The number of bags (or rather the lack of) placed for collection in our suburb indicates that we have a long way to go. Please help us to stop this waste of resources and energy by participating in this project.
Collections are done every week on a Friday and every house was given a bag at the start of this project. If you are bagless then I am sure that if you leave your collection in a box or other receptacle, a bag will be left by the collection agency. Lets get into the recycling habit!
Put your bag out on the pavement before 8am.
RECOMMENDED SERVICES
The following services have been recommended by members of CKN. If you use any of them, please let me know how you have found their service to be, so that we can remove the names of any who are found not to be satisfactory.  Please e-mail the Webmaster
Builders
Doctor (his name

) 

Vukeya

083 415 0354.
Mzi ( highly recommended, does everything except electrical work)
083 485 4408
Tilers
Joel

073 342 7926
078 571 0997

Bongita

084 784 5471

Eric

072 248 4378
Painters
| | |
| --- | --- |
| | |
| Sampson Dube. | 082 623 9328 |
| Sylvester | 073 163 1412 |
| Clifford | 076 666 4869 |
| William | 082 538 7929 |
Skip hire
| | |
| --- | --- |
| | |
| TossnTip – Benoit | 079 610 2312 |
Tree Fellers
| | |
| --- | --- |
| | |
| Brands Tree Fellers | 0861 708 000 |
| Tree Felling (Sarah) | 083 444 6337 |
| Shepard Garden Service | 0727829125 |
| Luckson | 072 771 1990 |
Roofers and Construction Companies
| | |
| --- | --- |
| | |
| Johrube Construction (Ruben -builder) | 082 949 7584 |
| Werner Enslin | 083 770 1660 |
| Universal Roofing | 011 708 7474 |
| ACS (Christo) | 011 679 1391 |
| Spencer Roofing (Terry Spencer) | 083 443 3312 |
Carpet flood cleaners
| | |
| --- | --- |
| | |
| Dry Force | 0860 800 800 |
General Handymen
| | | |
| --- | --- | --- |
| | | |
| Dominic | 082 837 3261 | Hannes Buckle  082 389 2378 |
| Johan Dysel | 084 860 4425 | Jenny Bothma |
Garden Services
Kaimag's Garden Services
Mr Kaiser
072 195 3536
Garden Wizzard
Reinhardt
0845561790
Housesitters
| | |
| --- | --- |
| | |
| Bradley Davis | 071 898 0860 |
Other Services
Name and address

Therapeutic Reflexologist

Pat Bosman
44 Okkerneut Street
Constantia Kloof North
Tel: 011-679-2052
Cell: 082 318 7288

Glam Cakes

Leonie
083-289-6396
leonie@glamcakes.co.za

Carpet Cleaners
Aroma Carpet Cleaning
Tel: 011 475 4361
Cell: 076 665 2191
Michael
Pool Service
Honeydew Pools
Tel : 011 794 1094
Cell: 082 452 2814